Wash. DC

Hey, we had another great trip to the Wash. DC area!!!
As before, it was a wonderful experience. Each time we play
the metro area, we re-establish friendships with our Annandale
friends, and we meet new fans who become friends during the
visit. This year's trip was full of surprises as you will see. Please
come along with us and enjoy some photos from our 2005 trip: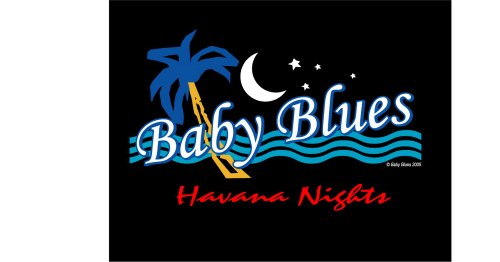 Tour logo for our shirts, laminates, and posters was
created for us by Gil Adkins, of Florida Screen Services.
Tour shirts by Go Getter Marketing.
A Huge Baby Blues thank you to Gil & Linda at
Florida Screen, and Richie & Jessica at Go Getter!!
And a Big thank you to Richie & Michelle at Apple Tree
Ink for the tour laminates!!!!!
Also, a special thank you to Anna, Scott, & Jaci for the great
photos!!!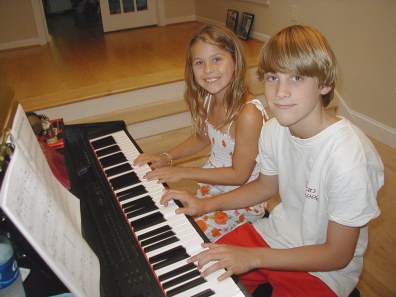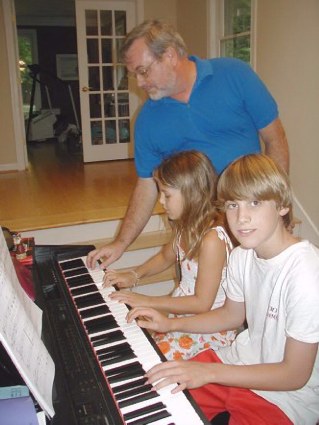 Shortly after our arrival, Maura & Jordan played some of
their compositions for Bill, which soon turned into a trio.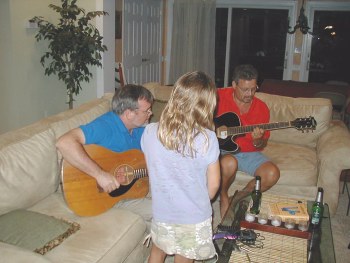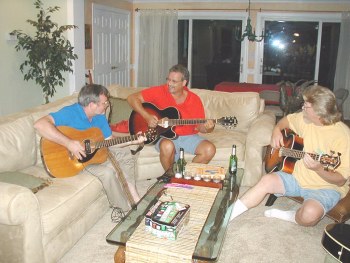 As Marti, Steve, and their families began to arrive, the
acoustics came out, and the jamming began.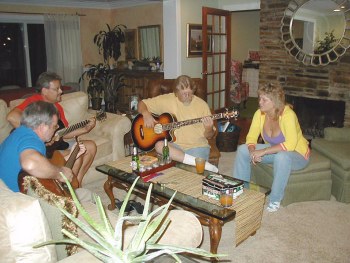 Miss Leslie joined in, then the requests started. It's hard to
stump these guys. They know a lot of songs.
Note here, that they're still not letting Joey sing, even on
a jam session!!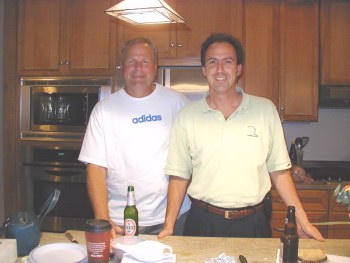 The audience was small, but appreciative.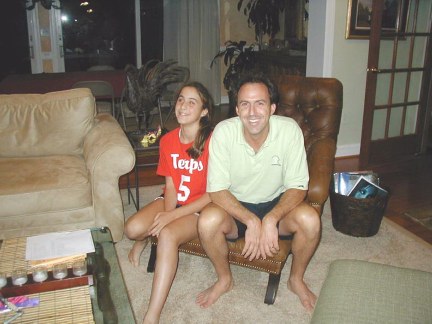 Stacia & Mom listen as Jane & Dad, Drew, join in the singing.
Lori, Amanda, Dillon, and Steve
(Where's Logan?) (Probably eating...)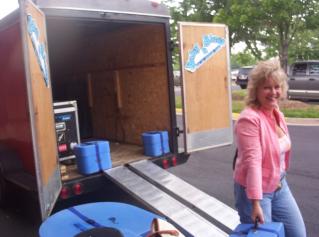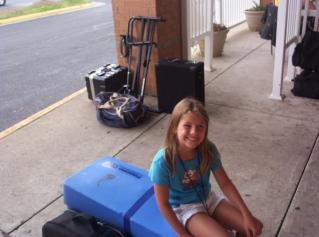 The next day, it was time to set everything up for the show.
Maura, I said it was time to set up, not sit down!!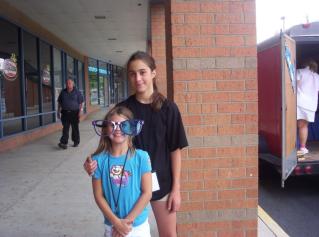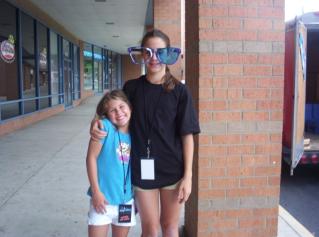 Maura & Jane, our road crew, hard at work...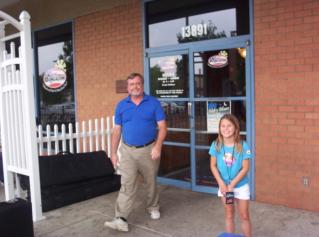 Set up done, we went home to change, and return for the nite.
Our crew exhausted from all of their hard work!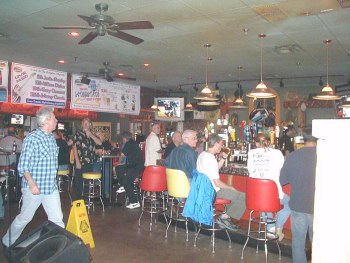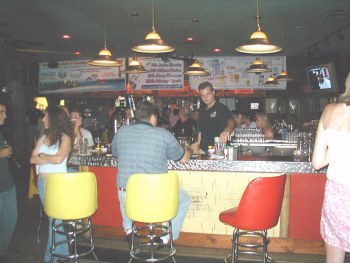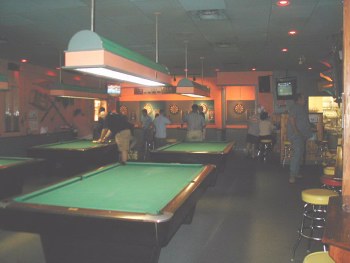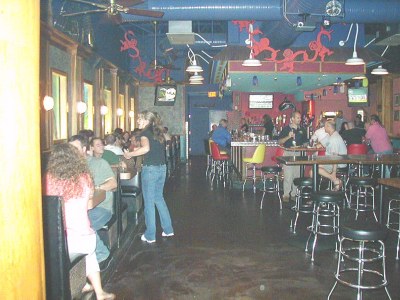 Arriving at The Bungalow, in Chantilly, VA. before the show,
we were able to get a few shots of the club as people were
arriving. As you can see, it's a beautiful club/restaurant, with
lots of seating in three big rooms. This is one of four of their
awesome locations.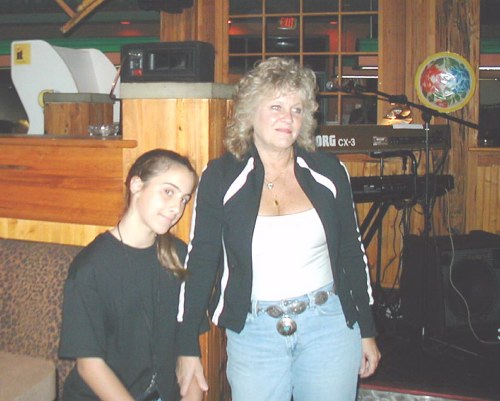 Just before the show, Jane is getting some private moments.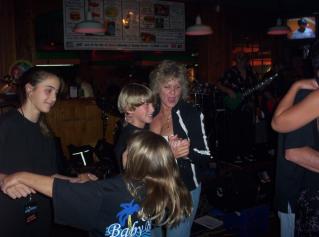 Soon, it was showtime, and away we went.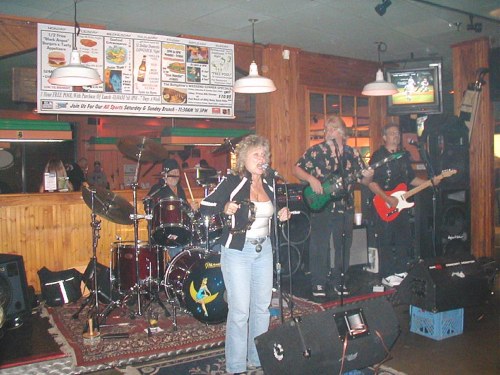 They told us Clarence Clemmons, from Bruce Springsteen's
band, had just been on this stage, with a 10 piece band. We're
still trying to figure out how they did it.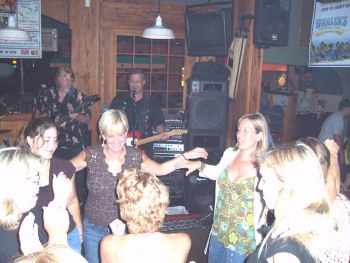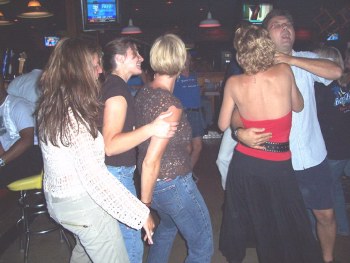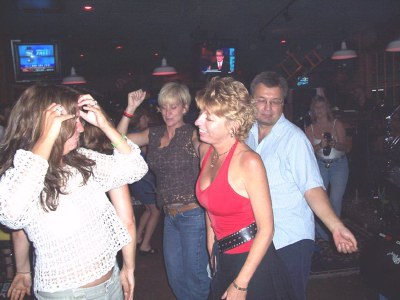 The crowd had a great time with us!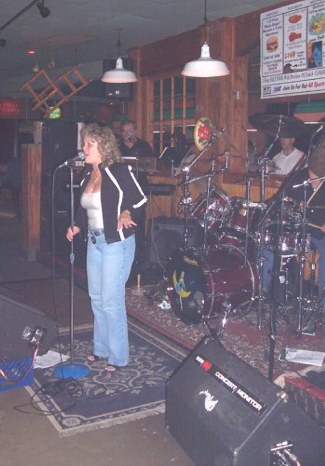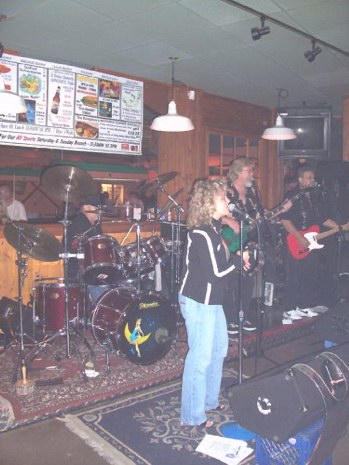 When Miss Leslie asked the crowd, "We've been told that
Virginia is for lovers; is that true?" One guy hopefully
yelled back, "Why are you asking?"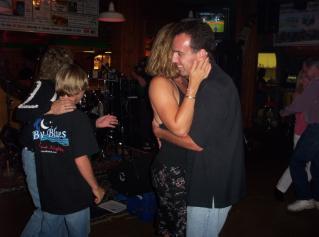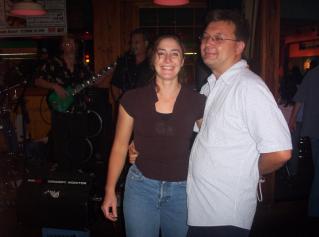 Stacia & Drew Anna & Scott
After the first show, we had a surprise visitor. Our very first
bass player, the man who made it possible to start Baby Blues,
Howard Ridgley, Otis Redding's bass player, drove in from
Baltimore, to surprise us! Every time you hear "Sitting On
The Dock of The Bay" this is the guy you're hearing on bass!!!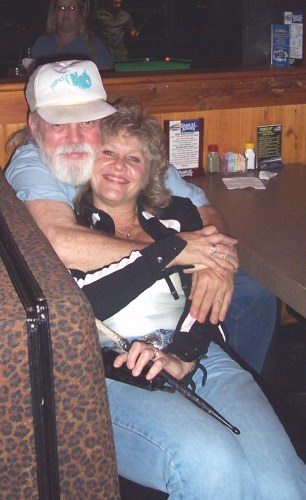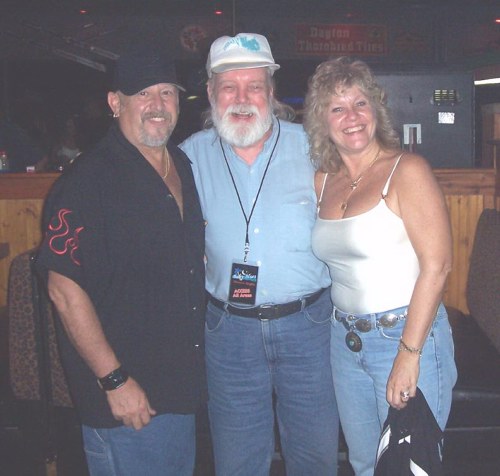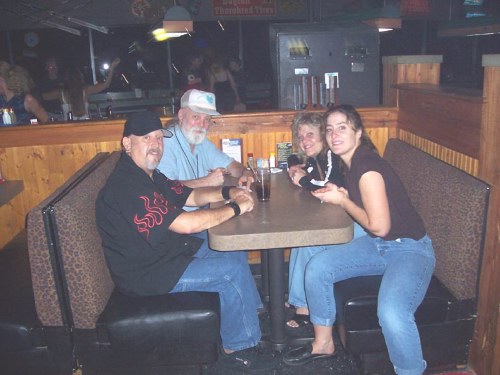 Howard, with our daughter, Anna.
The Man - The Legend! We love you so!!
Thank you for coming to surprise us!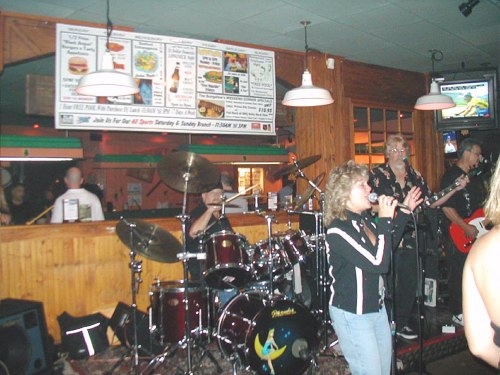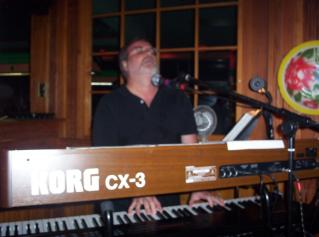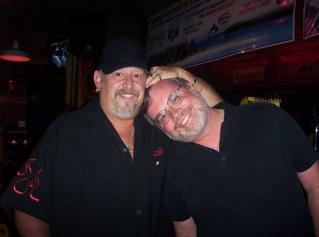 Our thanks to the owner and staff of The Bungalow; you
were wonderful to us, and we hope we can come back again!!
A huge Thank You! to Linda Knoche for your help, and for
introducing us to Cheryl & Kieth at the Bungalow!!!!!
More pics on Page 2: