"Swing For The Kids"

The 7th Annual "Swing For The Kids" is over!!! Two days of music, carnival rides, costume contests, and our silent auction of donated autographed items & memorabilia by stars such as Bonnie Raitt, Chuck Norris, Al Pacino, Yogi Berra,Shaq, Penny Hardeway, The Blue Collar Comedy Tour, Sammy Hagar, John Travolta, and more moved from our tent into the collections of our event winners, as another year of medical help for the children of Central Florida came to a close.
320 needy, disabled children a week in Florida
are receiving surgery & orthopedic aftercare free of charge through the Florida Elks Childrens' Therapy Services!! We are very proud of our annual Swing For The Kids event!
Here are some of the photos from our 7th Annual Festival, this year, again hosted by the beautiful City of Minneola, Fl. With the crew from Events Unlimited helping us, we had our best year ever!!!!!!!!!!!!!!!!
The first drummer on the stage just had to test
out everything! He is the beautiful son of Mr. &
Mrs. John Slack, our incredible sound team,
pictured here with Mom, Cathy, holding him back.
Go, Shaun!!
First performers on our stage this year were the very talented
chorale groups from Minneola Elementary. Directed by
Miss Grippo, Mr. Caponi, & Miss Stockton, these kids were
terrific! Thank you, Minneola Elementary, for sharing
all of your great kids and teachers with us at "Swing"!!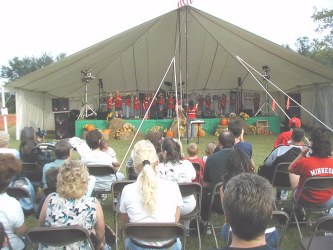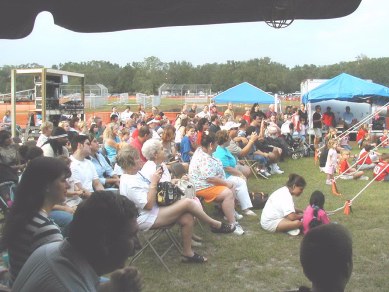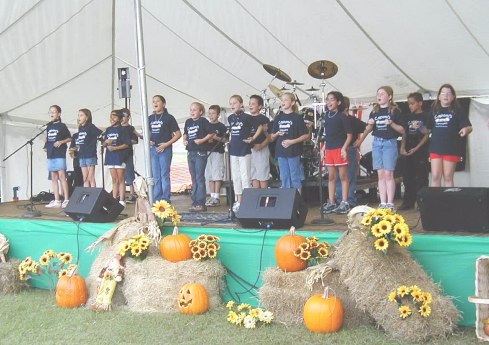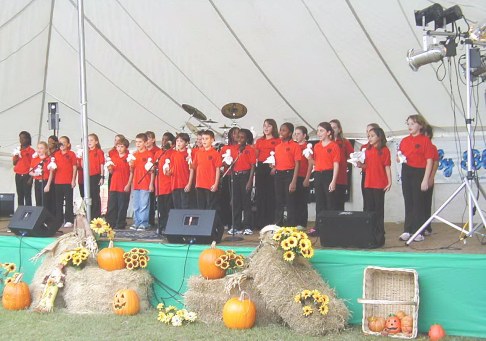 They were followed by Overdue Bill & the Collectors.
At this time we have no photos. If any become available, we
will get them added to the site. They did a great job!!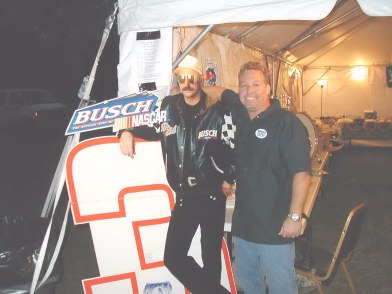 All through the event, the Silent Auction tent stayed busy.
Guest guitarist with Baby Blues for the night, Richie Parker
has a photo op with his favorite NASCAR star.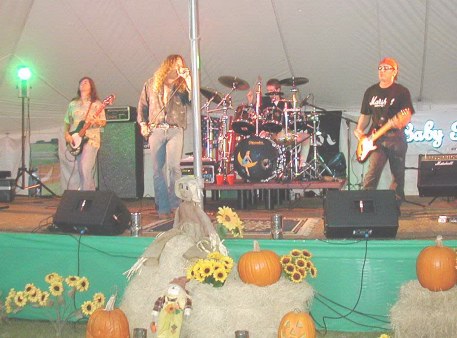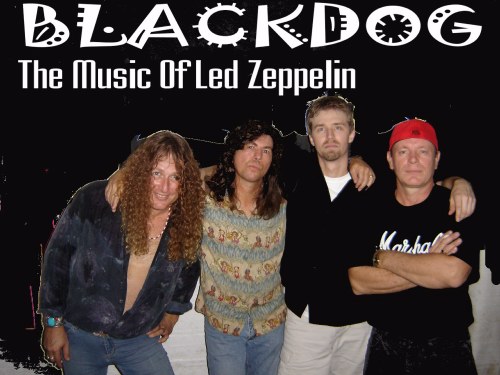 Blackdog got the crowd on their feet with an incredible
tribute show to Led Zeppelin!! They rocked!!!
Due to a transformer blowing (melting) just outside the park,
our costume contest had to be moved to the carnival midway.
As a result, we don't have any photos to publish. Hopefully
some will be forwarded to us of the winners so that we can
share them with you.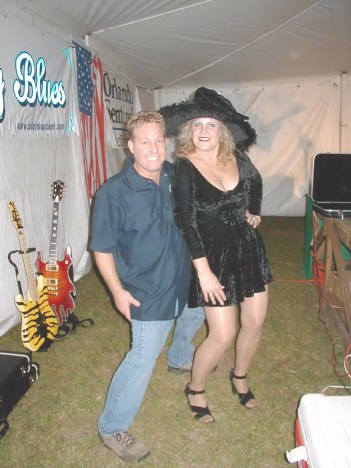 While the lights were out on the main stage, Miss Leslie
got herself ready with Richie for the show.
(Check out those custom guitars of Richie...Wow!)
Red & Baby Blues re-set the stage & prepared for the return
of the power. It came back on, and Baby Blues hit the stage!!
Showtime for BABY BLUES !!!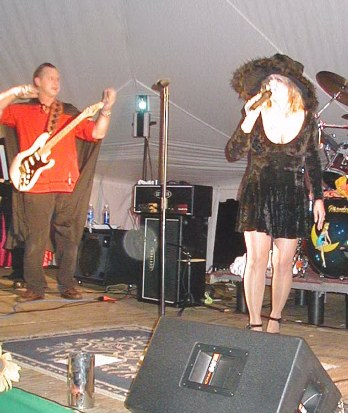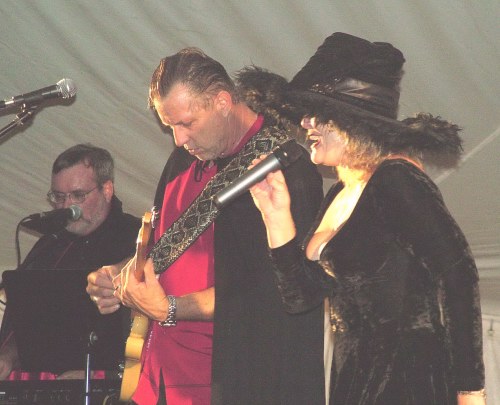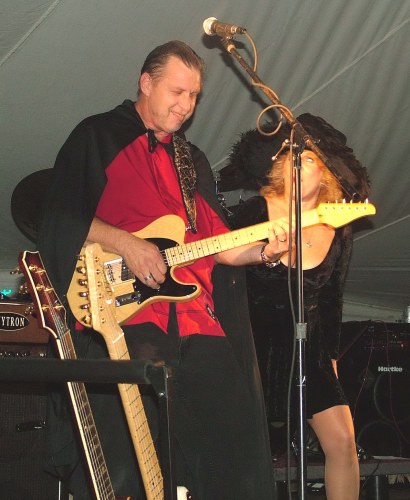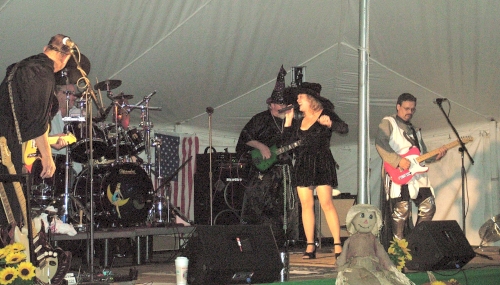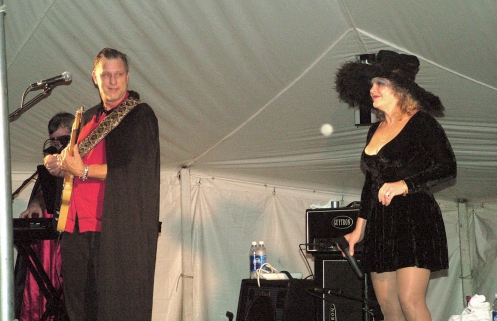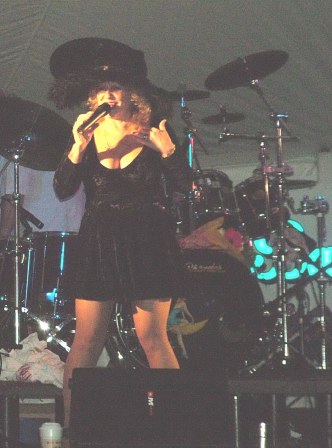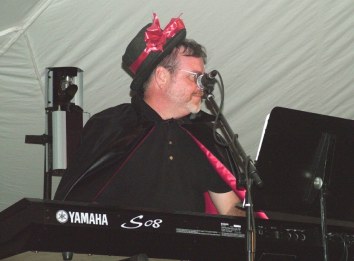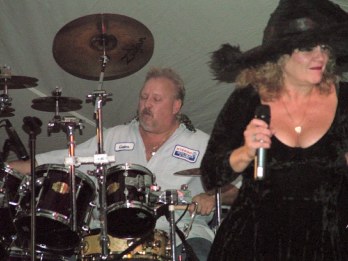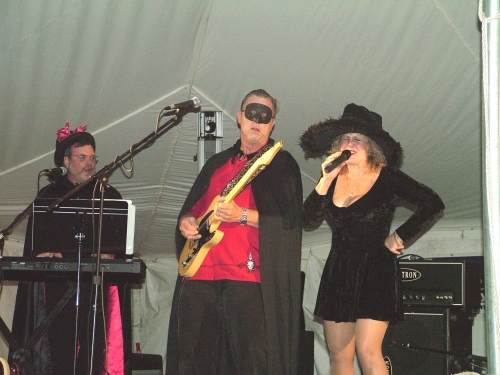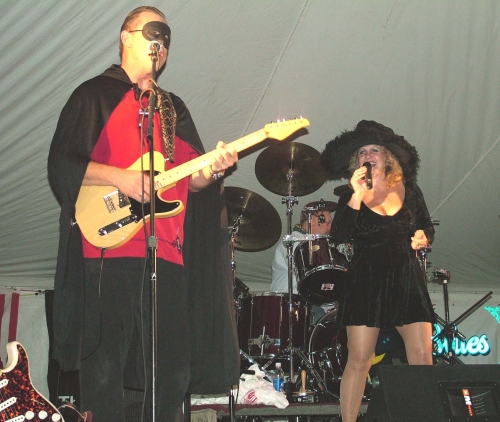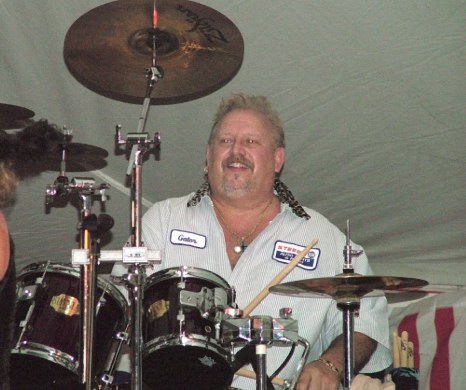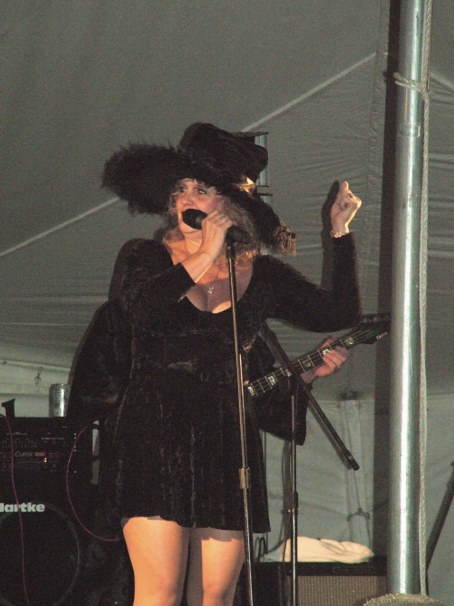 Another great Halloween show comes to an end!!
Red is the best! When he's on the board, we always
know everything is right!!
What a great night for our kids! As Miss Leslie told the
crowd, "Every dollar you spend here, touches the life of a
child. Please help us help the little ones who can't help
themselves! You are here for them!"
But, alas, the evening had to come to an end; there was
much ahead for tomorrow, as you will see on the
next page...